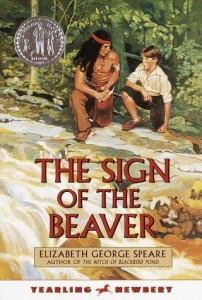 As we've gone through Dr. Goodreader this year, I've stressed the importance of context clues with my students.  I read the other day that each time we read a word in context we learn 10% more about it.  (I wish I could remember where.  It was in a myriad of books that I skimmed in preparation for a presentation on reading workshop that I'm giving on Monday.  My very first time using Prezi!  What a great presentation tool.  Check it out on prezi.com.   I liked  how you can stick your thoughts up and then organize them.  I think in mind maps, so this worked for me.)
I've always taught about context clues, but had a brain flash this time.  I decided to use our read aloud (Sign of the Beaver) to teach about context clues and also prepare assessments.  All I do is discuss various words that I think may be problematic in context and dog ear pages to mark sentences that I can use on assessments.  I'm doing the same with an easier read-aloud, Shiloh.
I have to say, it was eye-opening to learn the wide-range of abilities that my students have with this skill.  Part of beginning the teaching year is getting to know your students and their needs.  Mine seem to do a decent job with visualizing, but struggle with vocabulary.  So context clues will be a major focus for us for a while.