I teach my students how to use the Internet to build background knowledge.  When Salvador  read The Thief Lord, we looked up photographs of Venice so he could visualize the city.  We found maps so he could picture the act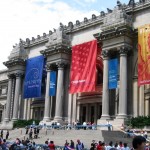 ion.  We could have gone to Google Earth and gotten a birds' eye view of the city.
When we read a book that the students "get" but really don't have much background knowledge about–like The Mixed Up Files of Mrs. Basil E. Frankweiler, which we are still working through–I have them make quick group PowerPoints to build their background knowledge.  They love it and I hear cries of, "I found the most beautiful picture of the Metropolitan Museum of Art," and, "Ohhhhhh, that's what an automat is!"  Although I only mentioned putting photos and titles in their PowerPoints, the students are crafting chapter synopses as we move through the book.
I love anything that builds background knowledge, as it will affect all reading and understanding.
Photo credit:  www.cs.yale.edu/…/Metropolitan/124_2485.JPG